Creating sustainable value through clear communication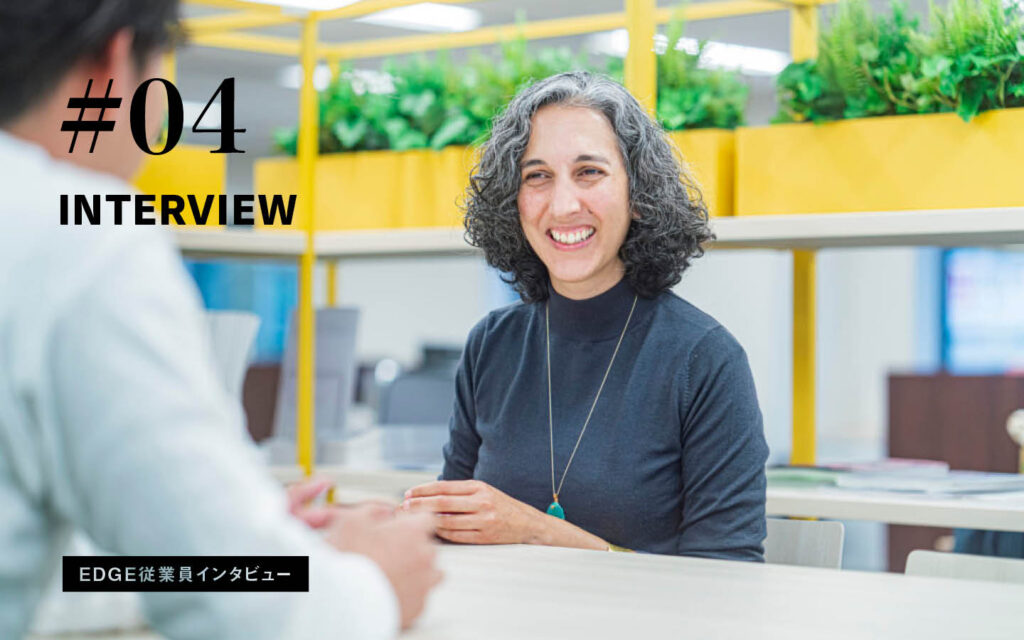 Zanna
Year of joining the Company: 2021
Department: Editorial Department (English)
---
A great place to use and grow my skills and experience
—— What three factors made you decide to join the company?
First, I'm an editor and writer with a background in corporate social responsibility (CSR) and sustainability, so I jumped at the rare opportunity to work with a company that produces integrated and sustainability reports for Japanese companies. The role brought together many of my interests and skills and, crucially, it did not require me to have N2 Japanese (yet!)
Second, the culture at Edge was much more open and informal than I expected. I had anxiously consulted Youtube for advice about Japanese corporate etiquette in preparation for my interview. When I visited the office, though, Edge's English editor-in-chief and the senior editor were warm and welcoming, the dress code was casual, and the company founder kindly acted as an interpreter in my interview with the HR manager. Finally, although Edge's culture was informal, many of the people who worked there were experts in their field, producing award-winning reports for major Japanese corporations. The Company had pioneered and continued to lead the way with integrated reporting in Japan and had clear commitments to ESG, sustainability, and high-quality translations into English. It seemed like the perfect place to learn, grow, and contribute my skills.
—— What is your impression of the Company's culture?
The Company has codified the core attributes of its ideal culture as freedom and discipline, mutual trust and mutual respect, and teamwork, all of which feature in my daily work as an editor. Our team has plenty of freedom in how and where we do our work, but we must have the self-discipline to provide thorough, high-quality copy-editing and proofreading services and meet deadlines with minimal oversight, especially when it is the "busy season" and there are multiple reports in progress. That's where the mutual trust and respect come in— translators, editors, project directors, and designers must be able to count on each other's effort and expertise as they work together to deliver high-quality finished products for clients. And respectful interactions help maintain harmony when working through the challenges that arise.
—— What do you feel is the best thing about joining the Company?
The English team get along well, so it always a pleasure to come to the office and to work together, whether in person or online. People are generous with their time and expertise, and available to provide backup or advice, whether on grammar and style, or financial reporting conventions. Knowing that we have a supportive professional network in place makes the large volumes of material and tight deadlines less daunting. Our work in the English team is about communicating the stories of Edge's clients to an overseas audience in clear, accurate prose. Ultimately, though, the reporting process and the deeper stakeholder engagement it facilitates supports Japanese corporations in their journeys toward sustainable, just value creation, I like to think that, in some small way, all of us at Edge are contributing to facilitating positive change through our work.
---
Exploring the stories of Japanese corporations
—— Please tell me about your work in more detail.
Edge works with Japanese corporations, many of which are household names. My work as an editor focuses on the copyediting and proofreading of English translations of our clients' IR materials, from quarterly results briefings to integrated, annual, and sustainability reports. Materials are allocated to a writer—who translates them—and to an editor—who copyedits the writer's translations. The editor will also proofread one or two galleys for all reports before they go to print. At the copyediting stage, I check grammar, punctuation, spelling, and facts, and suggest revisions to sentence structure, wording, and style to ensure that translations are error-free and easy to read and understand, using Edge's extensive inhouse style guide for reference. At the proofreading stage, I check that the visual and style elements of the report are in place and correctly laid out. It is also an opportunity to read through the whole report and fix any errors or inconsistencies in the text that may have been overlooked at the copyediting stage. I meet with the project director (PD) to share necessary and recommended amendments, which the PD then finalizes with the client and designer.
—— What are the most rewarding aspects of your job?
My favorite part of my role is copyediting. I love working with the writers to fine-tune their translations. Although the writers do most of the hard work, I still feel a sense of satisfaction and pride when I see their final translations sparkling from the pages of a published report, conveying the words of our clients with accuracy, clarity, and style.My work is a window both into Japan's social and economic history and its future. It allows me to explore the stories and strategies of Japanese corporations whose products and services are part of people's everyday lives and that have far-reaching global impacts, and to gain insight into how these corporations engage with local and international ESG developments.
—— What kind of studies are you undertaking to develop your career?
I try to keep up my learning in three key areas – editing and writing, integrated reporting and ESG developments, and Japanese. This year I've been reinforcing my copyediting and proofreading skills with courses through the U.K.-based Chartered Institute of Editing and Proofreading. From an integrated reporting perspective, online self-study has been helpful for building up a better understanding of financial statements and balance sheets and familiarity with different reporting standards and guidelines.The hardest part though, is persevering with learning Japanese. Through a combination of lessons, self-study, and everyday life, I'm slowly improving! Edge is a great place to be for learning about integrated reporting and ESG and Japanese at the same time, through the many online peer-led study sessions on offer, or conversation with colleagues. But I'm looking forward to being able to share ideas and collaborate more effectively with my colleagues in Japanese!
---
Experiencing Japanese culture and language outside work
—— How do you spend your time after work and on holidays?
During the week, the evenings are always pretty short and focused on family—or learning Japanese! At weekends we try to get out and explore Tokyo and the surrounding areas with friends. I love learning about Japanese culture through traditional arts and crafts, so my daughter and I recently joined a Saturday morning pottery class, with other families from her school. It's good to be learning a new skill and rebuilding some of the sense of community that we lost during the COVID-19 pandemic.
—— Are you able to balance your work and private life?
March 31 is the end of the financial year for most of the companies Edge works with, so the volume of work increases substantially in "the busy season" between June and November, when our clients publish their annual and integrated reports. Sometimes the schedules for my projects overlap and longer hours are needed in order to meet competing deadlines—which can make it a little harder to maintain a good work–life balance! Having the option to telework a couple of days a week has been helpful for freeing up extra time. Edge offers us days off in lieu if overtime is required, so I use those to catch up on my personal life once the work is done.Staggered hours make a difference, too, as the schedule I follow means I can take my daughter to school in the mornings and fetch her after work. But the"off season," when things are quieter, is when I put more time and energy to into my personal life!
—— What are some of the benefits you often utilize or are glad to have?
As I mentioned earlier, the option to telework two days a week has been immensely helpful. Especially during "the busy season" when I might need to work a couple of extra hours each day, it makes a huge difference to be able to cut my commuting time. Edge is also very generous with annual leave allowances for employees in comparison with many Japanese companies, and everyone must take nine days off in a row for "refresh" holidays at least once a year. In combination with the Company's annual closure over New Year, my refresh holiday gave me enough time to return to my home country for a family reunion, which was amazing after being separated by the COVID-19 pandemic for so long.
Finally, since I knew I wanted to invest in Japanese classes and editing courses last year, I was very happy when Edge announced its Taking Initiative program, under which it gave each of its employees an allowance to spend on personal development. Edge's culture of supporting learning and growth across the organization in various ways, from mentoring to study groups, is one of the things I really value about working here.